As we are all aware, there is a virus spreading around the world at a rate that is causing most, if not all, of us to remain at home for quite some time. It is imperative we practice self-responsibility by staying healthy in various ways, making sure not to add to the spread of this virus. So as you find yourself indoors more than you probably could have imagined, it's important to both take care of our bodies and our minds by staying productive. Idle time around the house can become dangerous, especially if you think you can just wing it, so it's important to get ahead and formulate your own plan of action to stay productive. That's what I'd like to share with you some healthy habits and tips you can use to stay on top of your productivity in the midst of challenging times indoors.

1. Stick to your routine
Getting up at your regular time is one of the best ways to stay productive if you're stuck inside. Although most of us are at home during this time, it doesn't mean that we throw our normal schedules out the window. So waking up and following your normal routine to get ready in the morning is going to keep you calm and also in an optimal mental state. You can even replace your normal commute time with a brisk walk outside to get fresh air or start your day with morning meditation.

2. Meditate
During times of uncertainty and crisis, it's important not to add to the hysteria and try your absolute best to remain calm. So speaking of meditation, it happens to be one of the most productive ways you can start your day. And whether you use meditation in times of need or it's just your regular practice, it has tremendous benefits on your overall well-being. Through meditation, you allow yourself to be fully engulfed and present in the moment, allowing for more peace and calmness – something we could all definitely use right now.

3. Create a to-do list
We may be stuck at home, but we can't forget about our goals. Life is not over, it's just a little different right now, so naturally, we have to adjust to a slightly new reality. You may feel that being forced to stay home means you have an excuse to binge-watch all your favorite shows – well, you can binge-watch a little… I'll actually get to that later ;-) – but one of the secrets to productivity is creating an action plan. And sometimes, all it starts with is a to-do list.
With this virus and the corresponding media coverage, things seem to be changing every day, that's why it's important to take things day by day, and a to-do list will help you to knock off those lingering tasks that much easier.

4. Don't forget your hobbies
Has stress or lack of time caused you to put off some of your favorite hobbies? Have you been thinking about starting a new hobby but just haven't found the time? Well, more time at home could mean more time for your hobbies. So help keep your mind at ease by allocating some time for activities you love. This is a great way to unleash your creativity outside of your everyday tasks and responsibilities. Hobbies are great stress relievers, they teach you patience, and are the perfect mental break from all the uncertainty we may be dealing with right now.

5. Learn something new
This is also a great time to learn something completely new and even explore all of your creative desires. Here are a few things you can learn right in the comfort of your own home:
And here are even more skills you can learn right on YouTube!

6. Get organized
Have you been meaning to clean out your pantry? Or finally organize your closet? Well, for me, an organized space is a productive space. Now is a great time to take a stab at your organization skills and declutter your workspace, home office, kitchen, etc. Creating order in your surroundings is going to help reduce stress and also set a good example for others you may live with. So how about making it a family activity? Get everyone on board to help create a little calm in the chaos.

7. Move your body
Earlier this month, an announcement was made that my city was shutting down. That means no bars, restaurants, theaters, gyms, or attractions would be open for public gatherings. That's when I really realized how real the situation was getting. For those of us who enjoy going to the gym or taking workout classes, our new normal has caused us to find alternative ways to stay active.
Even though we may now be confined to four walls, it's still possible to get exercise. And the beauty of the internet is that there are countless online workouts you can do right at home – everything from HIIT workouts to yoga to kickboxing. Keeping your body active is very important right now, so it's just a matter of finding alternative ways to exercise.

8. Cook a healthy meal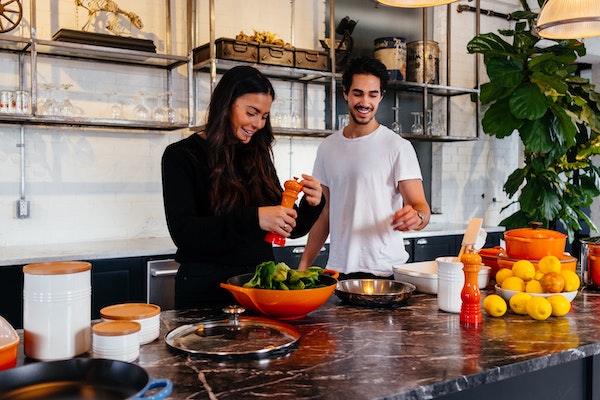 Spending more time at home means less eating out and more cooking for yourself. This is an excellent time to make some healthy habits and start cooking! Who knows? After we get through this challenging time, you could come out of this with a new-found love for being in the kitchen. It's so important to nourish our bodies with the right stuff right now, and cooking a healthy meal is a great way to keep life as normal as possible.

9. Virtual gatherings
Times like these really reveal how grateful I am for the internet and the ability to keep in touch with friends and family. That's why I love hopping on FaceTime or Skype to catch up with friends. Staying productive also includes tending to your mental health, so keeping up on your social connections is very important. It's great to have friends and family to lean on, and even though you may not be able to see all of them in person, you can still stay connected. I love to schedule virtual "wine night" with my friends, where we all pour ourselves a glass of wine and catch up over video chat as if we were right in front of each other.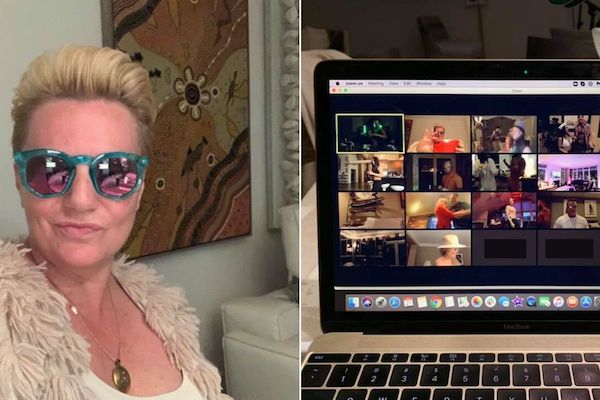 You could even host your own virtual dance party! :-) You see, sometimes it is the challenging times that end up bringing all of us closer together.

10. Turn on the TV
Mindless television may not be the best way to spend your time, but shows and movies that are good for your personal development are great things to binge. Here are some shows I've watched and documentaries on people's lives that will both educate you and lift your spirits during these uncertain times:

Stories from spiritual leaders, physicians and those with chronic illnesses reveal the powerful connection between the human psyche and physical health.

In a talk show straight from the heart, actor and producer Reese Witherspoon visits with groundbreaking women to discuss their inspiring journeys.

This documentary on actress and television producer Betty White traces her decades-long career as a woman breaking new ground in entertainment.

This music-driven documentary charts Clive Davis' 50-year career as one of the world's most influential record moguls.

This documentary profiles music and culture icon Quincy Jones, offering unprecedented access to his private life and stories from his unparalleled career.

With humor and empathy, Brené Brown discusses what it takes to choose courage over comfort in a culture defined by scarcity, fear and uncertainty.

Powered by candid recollections from esteemed African-American entertainers, this docuseries traces the history of Black cinema.

11. Listen to podcasts
While you are spending some time either getting organized or working on new hobbies or skills, why not add some deep, raw, and candid conversations into the mix? Podcasts are great time killers and perfect while cooking, cleaning, or when you want to multitask. It's like you're virtually sitting around the dinner table listening in on captivating conversations. Not only are they easily accessible from your phone, computer, or tablet, but they are great conversation starters – also something we could all use right now.
So as we find ourselves getting used to our new normal of spending most of our time indoors, sticking to a regular routine and keeping busy are going to help us stay productive. And I hope you've had a chance to listen to my new podcast, Not Over, Just Different, because you'll be in for quite a treat and wealth of information. With a different guest every episode, you are bound to learn something new - I definitely know I did! And remember, you can download and subscribe to any podcast (including Not Over, Just Different) right from your phone, as it's available for both IOS and Android devices. So here's to our productivity!