When I'm seeking inspiration for my next big opportunity or venture, I look no further than my bookshelf!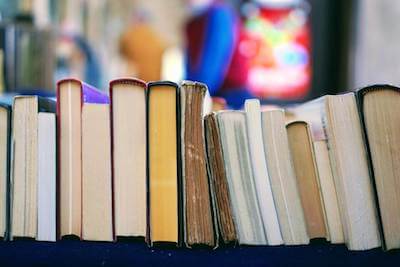 Reading is not just about a good plot or story line. I truly believe that great books - the classics - have the capacity to move your soul! They stimulate new awareness, shift your perceptions, give you deep insights, and motivate you to reach for the best version of yourself.
When I think back to some of the most challenging moments of my career and times when I've almost lost faith, I could attribute my ability to bounce right back to some of these really inspirational reads. It's become so much a part of my success habits that I frequently recommend reading as a success ritual to all of my students.
Over the years, I've acquired quite the collection of transformational classics in genres like self-help, neuroscience, spirituality and business. And I've had the honor of working with some of these amazing authors!
So, if you need a creative breakthrough, or if you're going through big transitions in your life, I highly encourage you to pick up one of these 10 books that are sure to have you reaching for the stars!
1. Breaking the Habit of Being Yourself – Dr. Joe Dispenza
When it comes to bridging the gap between science and spirituality, Dr. Joe Dispenza does an amazing job at bringing you cutting-edge research that is easy to understand and will have you excited to get behind the science of creating change. He explains why our fate is not determined by our genes and how our personality creates our personal reality. Best of all, he gives you the "how" to create this change for yourself.

2. Conversations with God – Neale Donald Walsch
As Neale records his conversations with God, we gain thought-provoking insight as to what some call the Divine, Source or Creation. Why are we really here and what is the nature of our reality? This was the first book of its kind when published and tackles some of our most sought-after answers as human beings.

3. The Biology of Belief – Bruce Lipton
Lipton's groundbreaking experiments and rigorous scientific studies demonstrate our ability to influence our genes. This is a great read to understand just how powerful our minds really are. He shows us how to transform our subconscious minds to transform our lives, empowers us to reclaim our ability to own our health, and how this helps the evolution of humanity in the process.

4. Celestine Prophesy – James Redfield
If you're looking for fiction with wisdom, the Celestine Prophesy captures the life journey metaphor and delivers perspective. The fact that this was one of the most successful self-published books is enough to inspire anyone. After Redfield sold 10,000 copies on his own - prior to landing a publishing deal - it spent 165 weeks on The New York Times Best Seller list.

5. Untethered Soul – Michael A. Singer
This book taps into several traditions and teachings of mindfulness and meditation that are useful for anyone who really wants to let go of old limitations and find happiness within. The book itself brings you more awareness of your inner world, helping you expand, yet it's delivered as a light and easy read.

6. Think and Grow Rich - Napoleon Hill
The business principles in this book truly stand the test of time. They're just as applicable now as when Hill wrote them in 1937. It brought the world the idea of a mastermind; what it is, how it revolutionizes business, and how you can create success with one. Hill was one of the most influential figures for me during the time my partner Glen and I were creating Mind Movies.

7. Success Principles - Jack Canfield
Most ambitious entrepreneurs live in what I call "the gap". While you may not lack the vision of what you truly want, perhaps you can't quite see how you're going to get there. The gap is where many new entrepreneurs get stuck. But in his book, Jack lays out 67 success principles to help you realize your ambitions with confidence and gives you proven strategies to realize your goals.

8. The Power of Now – Eckhart Tolle
Packed with powerful insight, this book is often referred to as a go-to for anyone on a spiritual path. Tolle illustrates the importance of being present in our daily lives, how to let go of the analytical mind, and how beyond that mind we can find inner peace and the truths that we are all seeking.

9. Life By The Cup – Zhena Muzyka
Powerhouse mom and social-driven entrepreneur, Zhena Muzyka, built a multimillion-dollar fair trade tea company as a single mom with $6 to her name, and she shares her journey with you over a cup of tea. She proves that no matter what your circumstances are, you hold the power to change your life and follow your dreams. This one is sure to move you!

10. A Return to Love – Marianne Williamson
One of my favorite quotes of all time comes from this book: "Our deepest fear is not that we are inadequate. Our deepest fear is that we are powerful beyond measure". Spiritual superstar Marianne Williamson reflects on the powerful force that love plays in our lives and how to live these principles to continuously create miracles in our lives.
Do you have any books that inspire you to reach for your goals and achieve your dreams? Well, besides enjoying a good read, I also love using the power of visualization to help manifest my desires.
And if you would like to do the same, you're in luck because I've created a powerful visualization tool for you!
Bob Proctor (star of the hit movie The Secret) and I dive deep into the Law of Attraction and we share how to get life-changing results with the power of visualization and positive thinking so you can achieve your greatest life!
Watch as Bob Proctor reveals his best secrets for manifesting your dream life here.
And if you have any other book recommendations that led you to reach for the stars, please share them with our community in the box below :)