As many of us adapt to a new reality - working remotely, spending more time alone, feeling concerned about personal finances, health and more - it's easy to feel unmotivated and unfocused. Not only are we missing a lack of our normal routine, but we're also being bombarded by constant information overload through the mainstream media and social media. In these abnormal times, it's normal to want to shut down, and find unhealthy ways to cope with this new and confusing reality.
However, as we continue to adjust in the coming weeks - it's important that we begin to take steps to regain a healthy balance in our lives. In fact, I believe that with the right mindset and tools, we can begin to see this period of chaos as an opportunity to turn inward and focus on our personal growth. If you'd like to use this time as a chance to connect with yourself, read on for my top reasons why NOW is the perfect time to focus on your personal growth.

Embrace it
There's just something about a disruption to the norm or being faced with uncertainty that creates a new space for us to reflect on our lives and where we are headed. Being challenged really forces us to see things from a completely new perspective, and trust me, that's usually a good thing.
What you may not realize at first is that, when you are forced to think and behave in a new way, the doors of opportunity become instantly unlocked. You just have to be willing to walk through those doors to truly embrace and surrender to the unexpected. Surrendering to the "what-ifs" and unknowns in life is one of the first steps to unlocking your personal power.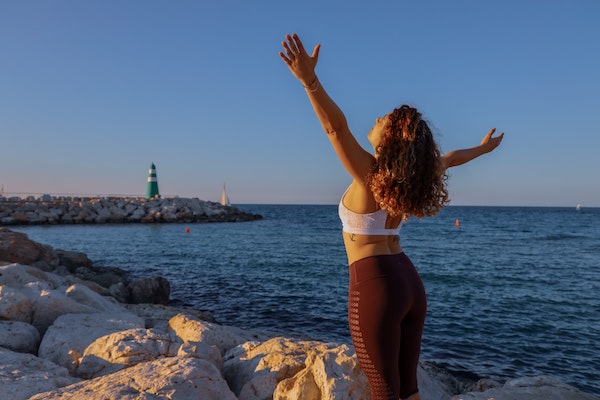 You see, personal development is based on growth and embracing change. So embracing the 'new normal,' whatever that may be for you, is exactly where you've got to start. When you are willing to embrace it, you'll have a better understanding of how to continue your personal growth journey towards your highest good.
So take this time as an opportunity to go after the things you have been putting on the back burner or the things that have only appeared in your wildest dreams. There's no better time than now to embrace all that you are capable and worthy of. Take time each day to get quiet - meditate, journal, go for a walk - whatever allows you to tap into your intuition, and find out what's really important to you and how you can achieve it.

Take Control
Again, it's totally normal and natural to look to unhealthy ways to cope with the stresses of everyday life. That's why it's so important right now to take a step back and try to view this time period from a new, more mindful perspective - as an opportunity for personal development. However, in order to shift your perspective and behaviors to a growth mindset, it's important to recognize the behaviors that may be keeping you stuck - the excuses we all give ourselves.
And trust me, I get it! Right now, it's even easier to make excuses in every area of our life. Whether it's for why we should have that extra glass of wine, reasons to put off a new project, or to skip a workout - the list goes on. But when we're able to identify these habits, we can begin to overcome them and replace them with new, more empowering actions.
In this super interesting video, featuring author and coach, Ketan Krishna discusses some great ideas to manage personal growth in turbulent times. I love this video because Ketan's specific tactics are completely timeless - they can help you overcome excuses and achieve your goals during challenging times and throughout the rest of your life. So, have you been making any excuses lately? Is there a specific area you'd like to grow in like your finances, relationships, health or spirituality? Remember, times of chaos allow room for growth, so if you've been holding back on something or making excuses - now is the perfect time to get back in control and make a change!

Listen To Your Vibration
People around the world are suffering right now, which impacts many of us on a deep level. Feeling helpless or sad is completely normal in these times, but it is important to keep an eye on how much negative energy we're consuming on a daily basis. Some simple ways to avoid this 'empathy burnout' is to:

- Make sure you're finding ways to help those around you: Whether it's calling a friend, picking up groceries for someone, offering your time or resources to help someone less fortunate. These acts of kindness will help you feel like you're doing your part.
- Limit your mainstream media and social media: Set a specific time each day (or take some days completely off!) to consume some news updates. If we're not careful this negative information can make us feel incredibly negative and upset.
- Use your self-care practice and toolkit on a regular basis: You can raise your vibration in so many ways, you just have to find what works for you. Personally, I love meditating, walking with my dog, Bella, talking to friends on the phone and cooking to help keep my energy high.

Remember, as we move into a new reality, you can still feel empathy and concern for others during this time without feeling guilty about your own growth. Do what you can for others, but do make an effort to check in with yourself and how you're vibrating and growing, too!
I hope these tips helped you think of this time period in a different light and motivated you to get started or continue with your personal growth :)
And before you go - we've received a lot of messages recently from our Mind Movies community asking for tips and tools to boost personal finances since the start of the pandemic. If you've also been experiencing any stress around your ability to maintain wealth in your life, too, then I hope you check out the special discount we're offering on our best-selling Money Switch Activation System.
At Mind Movies, our goal is to help as many people as possible to succeed and because we know right now is challenging for many people - especially in the area of money - we're offering a big discount on this powerful program. The Money Switch Activation system helps remove limiting beliefs you may have around money and provides you the tools to replace them with abundant, empowering beliefs instead.
Even during these uncertain times, you can make a shift in your ability to attract abundance, if you have the right mindset. If you're ready to boost your money mindset, make sure you check it out here.