Are You Experiencing 'Languishing'? Here's Why You're Feeling A Bit Off Right Now
Feeling a little bit "off" these days? Maybe you're not totally burnt out but feeling a bit stagnant or uninspired? Or perhaps you're just downright exhausted and have no clue as to why?
Well, NY Times contributor and organizational psychologist Adam Grant refers to this "blah" feeling as languishing, and it describes exactly what many of us are experiencing right now.
After an incredibly wild ride of a year following the uncertainty of a global pandemic along with navigating important social and political issues, it's understandable if finding a clear direction for the future feels a bit foggy right now.
And as the world slowly starts opening back up again, of course, you may feel excited and eager to get back out there, but symptoms like brain fog and lack of energy may still be causing you to feel less than inspired.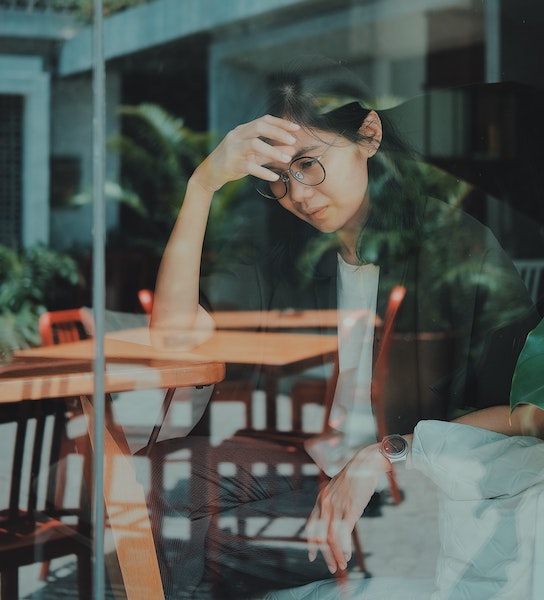 By definition, the term languish refers to a state of decreasing vitality or feeling dispirited, almost like a dreary plant in need of water. So if you're languishing, you're probably still functioning in your daily activities, but the joy and vibrancy for life that you used to feel may be lacking.
Whether you've had to overcome grief, loss, anxiety, or even depression during such unprecedented times, it's only natural for new and possibly confusing feelings to bubble up to the surface. After over a year of challenges and change, accepting the 'new normal' is causing many people to feel a bit stuck or aimless.
In Grant's piece, he goes on to describe this feeling as "the neglected middle child of mental health. It's the void between depression and flourishing — the absence of well-being. You don't have symptoms of mental illness, but you're not the picture of mental health either. You're not functioning at full capacity."
The emotional toll that languishing can take on your mental well-being, and overall motivation prevents us from existing in the elevated state of flow we need to thrive in life. With so many shifts and pivots we've all had to make in dealing with a global pandemic, we've reached a point where we must acknowledge this post-pandemic stress.
If you don't feel productive, that's okay. If you're feeling a bit foggy about your outlook on life moving forward, that's okay. If you're just not inspired by anything right now, that's okay too. Why? Because more likely than not, this was probably your first pandemic, so simply not knowing is more than understandable.
But now that we've pinpointed what this "blah" feeling really means and why many of us are feeling this way, just know that recovery is possible!
And the first step right now is to lean into all the feelings you are feeling. If you're feeling off, acknowledge it. If you're feeling uninspired, acknowledge it. If you're feeling unfulfilled, acknowledge it! Whether you need to write about it in your journal or talk to a friend or shout it from the rooftops, getting these feelings out is a positive step in the right direction toward healing.
Consider taking some time off or infusing your day with some self-care. Taking the "me time" you need to navigate through and get back to feeling like you again is something you are absolutely deserving of now more than ever.
Also don't be afraid to revisit your goals and break them down into smaller, more digestible pieces. Sometimes it can be hard to fully see what lies ahead when your goals take up too much space in your mind, to the point where they become overwhelming. When you can break down tasks or goals into smaller pieces and tackle each piece one by one over time, you're showing yourself the kindness you need to better wrap your head around them in a much more productive way.
And be mindful of the simple pleasures in life. If you're languishing, life may feel like it's passing you by so quickly that it feels hard to get into a groove. So don't forget to bask in the moments that spark joy for you.
And if you're still feeling like languish is getting the best of you these days, I welcome you to experience a breakthrough method I use to clear my life's most stubborn blocks. It's an energy clearing system filled with immersive guided audios to help you rid yourself of that blah feeling once and for all. Get your hands on our Free Flow meditation system right here and get ready to take back the year feeling empowered, vibrant, and motivated!