Do you dream of walking down the white sandy beaches of Fiji?
How about eating a croissant while you contemplate the Eiffel Tower?
Did you know that there are little-known tips and tricks that could significantly impact your wallet and help you travel affordably, so you can have unforgettable experiences on a reasonable budget?
After years of traveling all over the world, I've had my fair share of experiences (good and not as good) that have ultimately helped me save money, time and frustration in the long run.

And while many people think that exploring exotic places costs a fortune, this is not necessarily true if you plan ahead.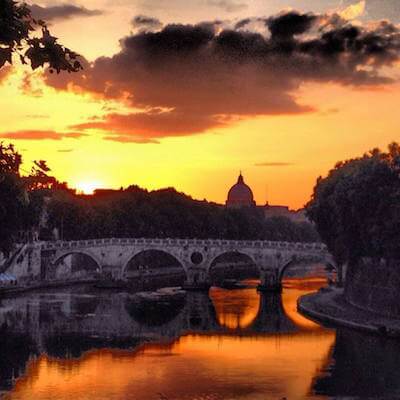 To help you experience your dream vacation on a set budget, here are 15 of my best insider travel tips that can help you save hundreds of dollars without sacrificing comfort:

1. Book a B&B instead of a hotel
You'll find that a Bed & Breakfast is more intimate, warm, and cultural than a big touristy hotel - and often, available for half the price!

2. Fly on a weekday
Tuesdays and Wednesdays are the cheapest days to fly, unless they fall on a holiday.

3. Search for more affordable Open Jaw flights.
An "open jaw" ticket is a round-trip journey, where you leave from a different airport than you originally arrived. You'll save money by purchasing two cheap one-way tickets, and since you'll be flying from Point A to Point B, then Point C back to Point A, you'll have an awesome excuse to visit more places in between Point B and Point C.

4. Keep your searches private
Have you ever noticed that plane ticket prices seem to rise after you've searched the same destinations a few times? You're not crazy.
According to ThriftyNomad.com, airlines use the cookies in your browser to increase prices on flights that you've searched repeatedly, to get you to book right away, in fear that the cost will continue to rise if you don't.
Make sure you are always seeing the lowest possible prices by using an "incognito" or private browsing window - read the instructions here in Step 1 if you need help on how to do that.

5. Expand your search to different airports and cities
If you're flying into a big city like Rome or Paris, don't limit your search to the first airport or city that pops up. Oftentimes flying into a smaller airport or different neighboring city can save you money (if you're willing to do a bit of research).

6. Do your shopping in the less expensive countries
Save your money for places where souvenirs are made locally; they'll be more unique and interesting, and cheaper, plus you'll be supporting the local economy! Try to stay away from the main "tourist trap" gift shops where they sell overpriced trinkets that are often mass manufactured and imported.

7. Sign up for travel newsletters
This is the best way to ensure you get the best deals as soon as they become available.

8. Book your flights in advance
Airlines usually release their flight seats up to a year in advance, and the closer you are to flying out, the more prices increase - they especially go up in the last month.

9. Meet the locals
Instead of splurging on overpriced touristy restaurants, talk to the hotel / B&B staff or some locals for tips on where to go to eat.
One of my favorite budget travel tips came from a travel personality shared on Johnnyjet.com: "A hotel staff can give clues to the cultural aspects of a city that may be too small to be noticed or mentioned in travel guides. Also, where the hotel staff eats is where the locals eat, which means it's going to be less expensive than the popular spots recommended by concierges."

10. Pay with cash not credit cards
Credit cards may get you a good exchange rate, yet many places that offer the best deals oftentimes only accept cash, and sometimes ATMs are not readily available wherever you may be.

11. See a doctor ASAP if you get sick
Remember that time is money when it comes to your health, so if you become ill, waiting can end up being more expensive than visiting a doctor right away. Ask the hotel or any locals for guidance.

12. Learn the local tipping customs
Many places include the tip, while others will expect you to add it on top of your bill. Be sure to inquire about the local customs so that you can ensure you are compensating everyone appropriately for their services :)

13. Visit destinations where you can travel affordably all year long
According to Nomadic Matt, Fiji, South America, Cambodia and Portugal are exotic and interesting places where you'll get the most bang for your buck at any time of the year.

14. Avoid unnecessary phone charges
Unlock your phone and simply buy a local SIM card in the city that you're visiting, or use it only where there is free Wi-Fi.
Use Skype, WhatsApp and/or Google Voice to stay connected while you travel and avoid roaming charges.

15. Get travel insurance
While this may sound more like a splurge rather than a budget travel tip, having travel insurance can save you a lot of stress, money and time when accidents or unexpected things happen. Don't travel without it!
Now before I let you go, I have some other hacks under my sleeve that will help you achieve your dreams faster.
These hacks may not have been designed specifically to help you save while you travel, they will assist you by reprogramming your mind to achieve ANYTHING you've set yourself to do, have, or accomplish this year - including that 2 week vacation you've been pondering :)
I share it ALL in this online Masterclass. It's overflowing with incredible mind hacks for peak performance and YES, of course, a free spot has been reserved for you :-)
The Masterclass is called Put Your Success On Auto-Pilot and I'm sure you haven't seen a personal growth training quite like this - it goes way deeper, and yet many of the techniques you'll learn are far easier than what you might be used to.
Spots are free but extremely limited, so claim yours here ASAP.
And if you have any other budget travel tips that can help the community, please share them below :)