In what may come as no surprise, I follow a ton of personal growth blogs - both for my own growth and for inspiration to be a better coach.
And so I consider myself to be quite a connoisseur on the subject :-)
Good personal growth blogs are easy to find. But then there are the rarer incredible ones that offer:
1) A consistent stream of original, refreshing, life-changing information (not the same old regurgitated advice)
2) A strong personality (or multiple personalities) which are both inspiring and fascinating to follow
With that in mind, here are 12 of my favorites (in no particular order):
Language warning: Mark curses like a sailor; but his insights on life, goal-setting and human psychology are sublime. Check out one of his more recent posts, The Meaning of Life Is A Ham Sandwich.
2. Tim.blog
Tim Ferriss' willingness to get down in the trenches and experiment on himself makes for some fascinating reports and journal entries that will make you reconsider the limits of human potential.
Personal growth writing at its rawest, juiciest and most vulnerable. Danielle pours her heart into each post she writes, triggering deep catharsis with every sentence. A shining example of Divine Femininity.
4. IWillTeachYouToBeRich.com/blog
What I love about Ramit Sethi is how he takes a subject as trying as personal finances, and colors it with captivating stories, brilliant ideas and a magnetic personality. Getting your money in order has never been this fun.
Marie doesn't just write optimal living and entrepreneurship articles bursting with wisdom and character - she also records stunning (and often hilarious) videos you'll be tempted to binge watch.
I'm in love with self improvement blogger Theo Ellis's rumination on the Law of Attraction, motivation, goal setting, psychology and more. Look out for - If Excuses Could Kill You, Would You Stop Making Them?
The home of blogger Maria Popova. Her insights into culture, psychology, science and literature are breathtaking - but they're also weighty. You'll need to concentrate on her work, but the wisdom gleaned is well worth it.
James Clear writes with stunning clarity. His insights on behavioral psychology and peak performance have inspired me with my own training material, and they're packed with insights and studies you won't find elsewhere.
A collection of timely reflections on how to recapture mindfulness, stillness and fulfillment in an increasingly stressed out world. Every post is a meditation in its own right.
10. Marcandangel.com
Prolific life coaches Marc and Angel Chernoff share their real-world insights, stories and breakthroughs. You can tell by the quality writing that this power couple walks the talk.
The blog called Barking Up The Wrong Tree is one of my go-to's for science-based solutions to life's challenges. From space-age neuroscience to groundbreaking peer-reviewed studies, this is where to go to stay ahead of the curve.
This blog taught me that adopting a minimalist approach to life is about more than just decluttering your house - it's also about decluttering your mind, and releasing the beliefs, patterns and emotions that don't serve you.
Speaking of personal growth…
Just because I can, I'm giving away two of my most popular personal growth tools to anyone who reads this (yes, that means you):
1. The Introspection Process Mind Exercise: Just follow a few simple steps in this video exercise, and within minutes, you'll discover the hidden subconscious programming that's sabotaging your career, finances, health, and even your relationships.
2. Natalie Ledwell's 7 Morning Success Rituals: In this mini ebook, you'll find my 7 favorite morning success rituals for starting your day on a positive, energized and empowered note.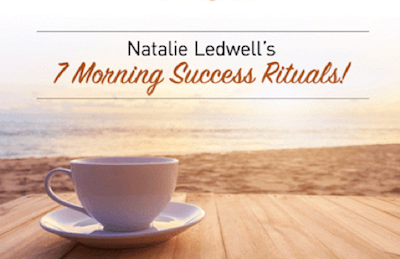 Yes, these are 100% FREE, my gift to you: