Podcasting first became popularized back in the early to mid-2000s and has now become one of the most used forms of media in the world. Today, there are currently over 2 million podcasts streaming globally and over 48 million episodes, so it's safe to say there's a podcast on almost any topic you can think of.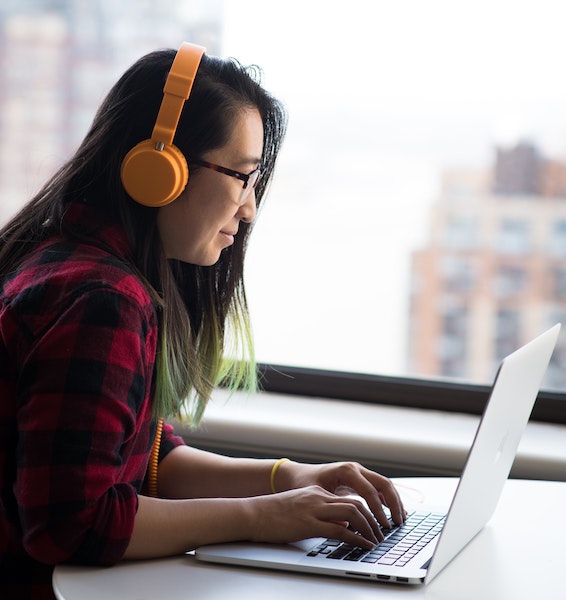 Whether you're listening from home while you're tidying up, in the car on a road trip, while you're at work, or even while you're exercising, there's always so much you can learn. And that's what I love about podcasts – not only do they provide entertainment, but they also act as a knowledge base for a myriad of topics that can help you improve any area of your life.
That's why I want to share with you some of the best podcasts you can listen to, no matter your mood. From motivation to relationships to finding happiness, here are my top podcast picks!

Podcasts For Living Your Best Life
Sheri Salata and Nancy Hala, hosts of The Sheri + Nancy Show, are life-long sister friends of 29 years, Chief Visionaries of The Pillar Life, where each episode is all about initiating the 8 Pillars of a happy life: Health + Wellness, Spirituality + Happiness, Romance + Sex, Friends + Family, Creativity + Innovation, Adventure + Discovery, Sanctuary + Beauty, and Money + Abundance. Each episode is focused on a different area of life and is designed to inspire and uplift you.
Happy Married Chicks Podcast is hosted by friends and entrepreneurs Susan Leahy and Gillian Andrew, based on their mutual pursuit of happiness. This joint venture drew them from their respective homes in L.A. and Vancouver to living their best lives alongside their husbands and children in Playa del Carmen, Mexico. Each episode provides you with the fun tools you need to live a life that feels good!

Podcasts For When You're Ready To Get Down To Business
Founder and CEO of Hint, Inc., best known for the leading unsweetened flavored water, and best-selling author of Undaunted: Overcoming Doubts & Doubters, Kara Goldin knows all about persistence and overcoming obstacles. And her podcast, The Kara Goldin Show, is all about stepping into your authenticity, leaving you feeling more inspired than ever to go after your dreams. The combination of top-notch guests and business insight provides just the right amount of education and wisdom to help you navigate your own path in life.
Serial entrepreneur and founder of Wings Media, Melinda Wittstock, has found the sweet spot bridging connection, capital, and confidence in her Wings of Inspired Business Podcast. The practical advice she shares to take your business into overdrive is accompanied by incredible wisdom and the kind of 'aha' moments that help guide you on your journey where all of your wildest dreams feel possible. After listening to just one episode, you can expect next-level consciousness and a new sense of fearlessness to embrace your true authentic power. You can even connect with Melinda directly through her interactive mobile podcast community, Podopolo.

Podcasts For Healing, Health, and Wellbeing
When it comes to health and fitness, I rely on my good friend JJ Virgin's expertise. And her Ask the Health Expert Podcast has become my go-to for all things nutrition and wellness. Not only is her wisdom backed by science, but she provides you with the simple yet highly effective lifestyle changes you can incorporate right into your everyday life, allowing your overall health to become an automatic priority. From learning how to not just lose weight, but to burn fat, to everything you need to know about anti-aging, listening to JJ's podcast is what keeps me motivated!
Are you ready to heal yourself? Well, the Heal Yourself, Change Your Life Podcast can show you how – using only your mind! Prepare to be blown away by host Brandy Gillmore as she coaches live callers in healing their physical bodies from disease, injury, chronic pain, emotional pain, or simply feeling stuck in life. Brandy's expertise in self-healing originated from her own devastating accident that left her disabled and living in excruciating pain. And her life purpose is now being fulfilled through her mind-body healing that she's been practicing for over a decade.

Podcasts For Getting Personal on Personal Development
Over It And On With It is the name of Christine Hassler's podcast, and her live on-air coaching offers everyday people the inspiration and guidance to heal their past, change their present, and create what they really want. What I love about this podcast is that it reminds you that you are not alone in this world, and we probably have a lot more in common with others than we may think. You're able to see the problems and opportunities we all face in the world and how to implement solutions into your own life.
If you aren't already familiar, I, too, have a podcast. It's called Not Over, Just Different, and it's a podcast primarily for women of a 'respectable' age facing life's next new chapter. After my divorce, I realized that I was now the author of my next chapter in life, so the inspiration for the show came from realizing that life wasn't completely over, it's just a little different. My guests and I chat about everything from health, relationships, and working on ourselves to really squeeze the juice out of life! You can listen right here <—
So what do you think? Are you going to check out any of these podcasts I mentioned? I hope so! And if you have another favorite podcast that you think others in the community would enjoy, please share them in the comment box below. :)