We Don't Say It Enough - But We're SO Grateful To Have You In The Mind Movies Community! So...
Watch This Video And Receive A Special Gratitude Offering From Us To You
HINT: It's Something That'll Make You At Least 25% Happier :-)
Get All The Tools You Need To Retune Your Mind To The Frequency Of Gratitude
Countless studies have proven the incredible effects of expressing gratitude daily - from your health and quality of sleep, to your career and finances, and even to your relationships.
The challenge for most of us is that too often, we just get too busy. We get stressed. We unconsciously let negativity take over. And we slip out from that space of gratitude; losing its full spectrum of gifts in the process.
We've listened to all the challenges you face with expressing gratitude - and we've created the Rich With Gratitude System - a 3-part system packed with our most powerful tools and technologies for shifting into an unbreakable Gratitude Mindset - every minute of every day:
---
PART 1: A Deeply Immersive Gratitude Meditation & Gratitude Journal
($49 Value)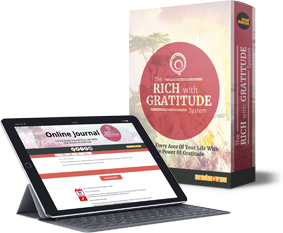 The Gratitude Awakening Meditation:
A deeply immersive 13-minute guided meditation that tunes your mind to the frequency of gratitude, and bathes you in a glow of positivity and light. No meditation experience is necessary! Just press play, relax, and let Natalie's soothing voice guide you.
Daily Gratitude Journal:
Previously only available to our high-end Ultimate Success Masterclass students, this handy online tool makes it easier to lock in your daily gratitude journaling habit, and even keeps track of what you're grateful for.
PART 2: Natalie's Personal Gratitude Affirmations + Limitless Gratitude Mind Movie
($66 Value)
Daily Gratitude Affirmations:
Natalie starts every day with empowering affirmations - and these are the ones she swears by when she wants to vaporize any negativity or limiting beliefs clogging up her mind.

All you do is recite your affirmations every morning. Then they leave a lasting imprint in your subconscious mind, keeping you unbreakably thankful and joyful throughout your day.
The Limitless Gratitude Mind Movie:
Our world-famous Mind Movies technology combines visualizations, affirmations and inspiring music to retune your mind subconscious for any desired outcome. Just watch this Mind Movie for 3 minutes a day to get your mind laser-focused on gratitude and positivity.
---
Try The Rich With Gratitude System Risk-Free...
Thanks To Our Unconditional 60-Day Money Back Guarantee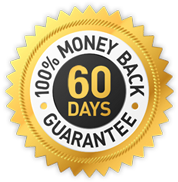 If anything (and we mean anything) about the program doesn't WOW you, we insist you contact us at [email protected]. You can then choose between assistance from our passionate support team or a full, fast and friendly refund valid for up to 60 days after your date of purchase. So go ahead and try the Rich With Gratitude System with full peace of mind. You deserve all the gifts gratitude has to offer!
EXCLUSIVE GRATITUDE OFFERING: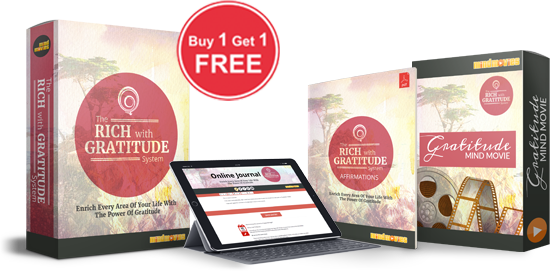 Get Our Very Popular Rich With Gratitude System For Just $17 Instead of $190.00
PLUS Get One FREE Copy To Gift To A Loved One
(Grab This NOW - Because We'll Never Repeat This Offer Again)