Get $311 In Life Changing Personal Development
Systems For Just $19.95!
Get your package now for $311 Just $19.95.
Limited Packages Available: Get Yours While Supplies Last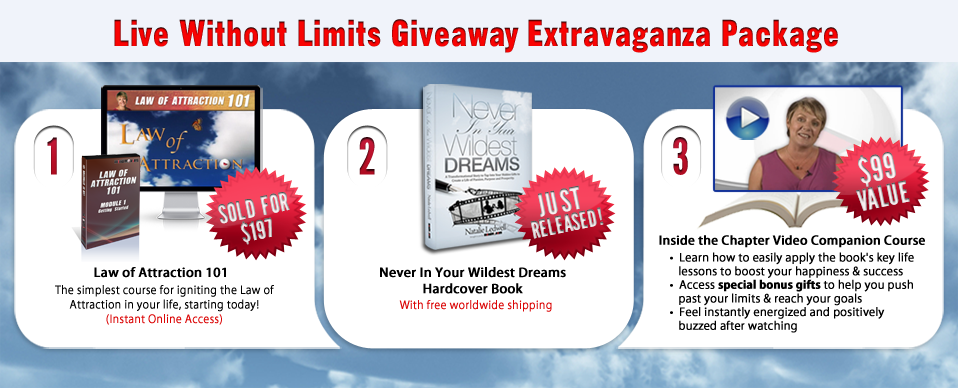 For the very first time ever, in celebration of my new book release...
I've combined many of my most popular programs, teachings and trainings into one single very special Live Without Limits Giveaway Extravaganza package that you can get access to right now until supplies last... for just $19.95!
You'll receive my insanely popular

Law of Attraction 101 program

, where I'll walk you through how to activate the full power of the LOA in your life not tomorrow, and not the next day or the next week... but TODAY!

(Sells for $197!)

I'll also rush you a

hardcover copy of my new book, Never In Your Wildest Dreams

, where you'll discover how to turn your new inner peace and manifesting powers outwards, so that you can create a purpose-driven life that helps to make the world around you a better place.

(Hardcover copy shipped straight to your door!)

Plus you'll receive instant access to the book's

Inside the Chapter companion video series

, where I'll reveal how you can easily transmute even your most challenging situations into incredible openings for growth, personal empowerment and increased abundance. This will make you feel at ease, inspired and ready to tackle the world. Comes with free bonus gifts too!

($99 value!)

To help you get the most out of the book, you'll also instantly receive

my brand new Never In Your Wildest Dreams mobile app,

where you'll get access to an exclusive book summary video right on your phone mobile device, plus even more gifts and free goodies that I just know you're going to love!
Total Package Value:
$311
...Worth of fun, insightful and incredibly powerful step-by-step training on how to create your dream future.
But when you take inspired action today, the entire package is all yours for the incredibly low price of
→ Just $19.95! ←
Limited Packages Available: Get Yours While Supplies Last