Accelerate Your Inner Transformation With
The No. 1

Most Popular Peak Performance Technology Featured At Dr. Joe Dispenza's Advanced Workshops:
The Mind Movies 4.0 Creation Kit
Mind Movies Has Touched The Lives Of Over 5.8 Million People Worldwide, And This Remarkable Technology Trains Your Brain To Pull Your Wildest Dreams Into Reality At Dr. Joe Dispenza's Advanced Workshop Events

Every time Dr. Joe Dispenza hosts an Advanced Workshop Event, countless people tell him the same thing:
"Those Mind Movies Were Amazing!"
Mind Movies are fun and deeply transformational 3-minute videos that combine visualization, affirmations, and positive sounds and imagery to dive into your mind.
Mind Movies retune you on a subconscious level to create any outcome you want.
Whether it's better performance at work. A more positive relationship with money. A healthier body. Greater empathy and connection with others.
Anything.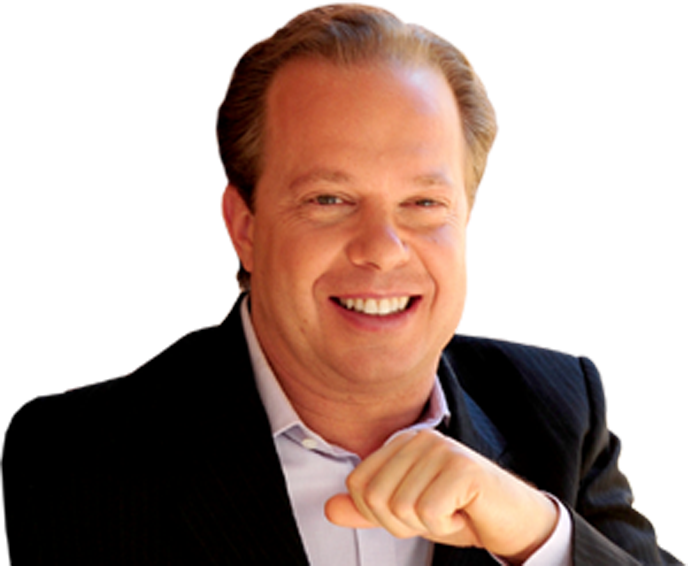 Dr. Joe uses these Mind Movies at his Advanced Workshops over the last few years to accelerate participants' mind shifts - and he's constantly getting requests from people who just want more Mind Movies.
And so recently, he approached the creators of Mind Movies to get you a special deal on their best-selling software... that allows you to effortlessly create your own PERSONALIZED Mind Movie in a few short minutes.
You'll see how it works in just a moment, but first:
Dr. Joe Dispenza Explains How Mind Movies Reprograms Your Brain
"Have you ever been driving down the road in your car, and heard a familiar song on the radio that instantly brings a rush of visuals, emotions and memories into your mind?
Maybe it reminds you of a time in your life - like when you were 16 years old and you had a crush on your first boyfriend or girlfriend. Or when you were 22 and graduating from college. Or when you were 30 and you had your first child.
This trigger is known as an associative memory; the song activates a set of circuits in your brain to remember the past.
Mind Movies works in the exact same way; except instead of remembering your past when you hear that song...
You remember the future you want to create when you watch your Mind Movie.
What's amazing is that biologically, this process looks exactly the same in your brain:


As this associative memory is triggered, your brain begins reorganizing its circuitry and laying down the tracks that turn the future you visualized in your Mind Movie, into reality."
- Dr. Joe Dispenza
Introducing the
Mind Movies 4.0 Creation Kit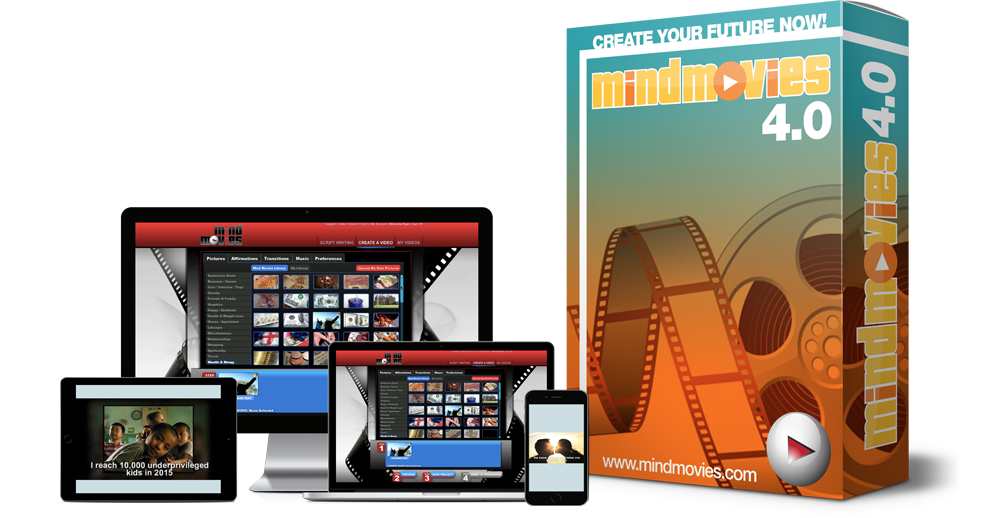 The Mind Movies 4.0 Creation Kit is the latest, most powerful version of their bestselling subconscious reprogramming technology that makes you the writer, producer, and director of the movie of your ideal life.
What you get is a powerful, easy-to-use program that allows you to create ANY 3-minute Mind Movie you want, powered by your affirmations, visuals and even music...
As easily as sticking pictures on a vision board.
In fact, it kind of is like a vision board...
A living, breathing one, that brings YOUR greatest story to life.

Watch this quick demo video:
OR review these 4 steps:
Select empowering positive affirmations (or write your own) that will imprint themselves in your subconscious mind, elevating your thoughts, habits and actions for the better.
Add inspiring photos or video clips of the things you love or desire most, for you to use as your visualization aid (choose from our library or import your own).
Select an uplifting piece of music from our music library, or again - even upload your own... Because after all, what's a good movie without a good soundtrack?
The brand new Mind Movies 4.0 Creation Kit even lets you add incredibly powerful subliminal audios on top of your music tracks. These are looping audio tracks infused with thousands of empowering phrases that further condition and empower your subconscious mind.
And that's it! In just a few short minutes, your personalized Mind Movie is ready to watch or download to your computer, smartphone or tablet.
Experience the Mind Movies 4.0 Creation Kit NOW
Mind Movies makes personal growth easier and more fun than ever.
Can be learned in minutes... no computer or video skills necessary
Takes just 3 minutes a day
Triggers instant, deep and lasting subconscious transformation
Flexible; make any video on any topic
Fully customizable; insert your own videos, music and images
Downloadable to your computer, smartphone or tablet
Shareable with friends on social media
Works on any computer, Windows or Mac
Unexpected cash, unexpected checks, a beautiful spa vacation, even pets!
"I personally have had an amazing experience with Mind Movies. Unexpected cash, unexpected checks, a beautiful spa vacation, even pets; specific pets that I wanted just fell in my lap. It's been great."
Dianne Orwig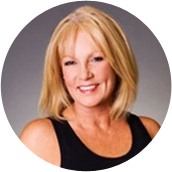 How an 'old school' meditator used Mind Movies to overcome his sense of unworthiness... and manifest a life-changing windfall.
For Tom, a long-time meditation enthusiast, Mind Movies wasn't love at first sight. He was skeptical about the idea of using 'technology' in his meditation and personal growth practice.
But with his friend's encouragement, he decided to try it.
"My first Mind Movie was filled with pictures of saints, yogis, and wise quotes from Abraham Lincoln and Winston Churchill," mused Tom. "I was focused more on enlightenment, and less on wealth and material things... not so much because I didn't want them, but because I somehow felt unworthy."
Then Tom stumbled upon an online photo of gold and silver coins. On a whim, he decided to include it in his Mind Movie, along with the Chinese character for affluence.
Tom proceeded to use his Mind Movie for a number of weeks to, as he put it, "communicate with my future self and erase my sense of unworthiness."
His turning point happened on a seemingly ordinary day, when a good friend whom he hadn't seen in years came to his house, and placed an envelope on his table.
"Open it," she told him.
In the envelope was her will, written just shy of her 68th birthday.
When Tom skimmed through it, he couldn't believe his eyes.
She had left him $110,000 worth of her fortune... in the form of her gold and silver collection.
Experience the Mind Movies 4.0 Creation Kit NOW
You now have the power to create your life's greatest story.
A story where success, affluence and well-being are your default state.
And where even your most stubborn challenges and obstacles have ZERO power over you.
What does that story look like for you?
Are you sipping ice-cold daiquiris on a warm and breezy tropical beach?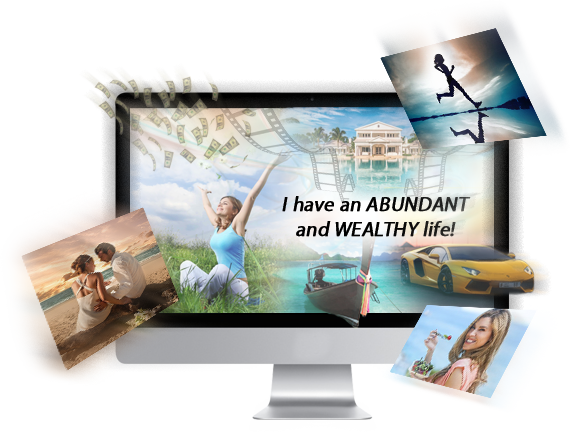 Are you carving your convertible sports car down the breathtaking slopes of Italy's Amalfi Coast, wind in your face and love of your life by your side?
Are you growing a passion-driven career or business empire that rewards you for helping others with your gifts and talents?
Or maybe you're just enjoying long and lazy afternoons with your loved ones, finally free of the financial, time and health worries that held you back in the past.
Whatever your story is...
Mind Movies Can Make This Your Reality - And As A Friend Of Dr. Joe, It's Yours For Nearly 75% Off
The retail price for the Mind Movies 4.0 Creation Kit is $197.
And for a technology you'll use for the rest of your life to shape your greatest future - that's already a great deal.
But Dr. Joe and the Mind Movies team have been working closely together for years.
They've seen just how much his students love Mind Movies, and how profoundly it accelerates their results with his teachings.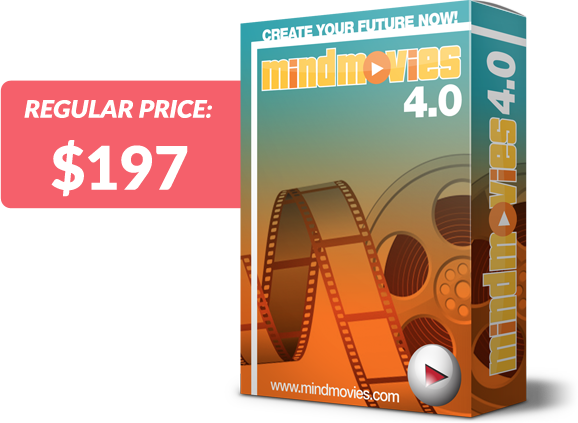 And as an incentive and reward to his community, they've agreed to take nearly 75% off the price (but for a very limited time only).
So when you try the Mind Movies 4.0 Creation Kit today, your investment isn't $197, or $150, or $100, or even $70.
But just a small one-time payment of $49.95. And that's the best deal you'll ever find on what is quite possibly the most popular personal growth technology on the planet.
Your Special Price Today:


Order Now & Get Nearly 75% Off The Mind Movies 4.0 Creation Kit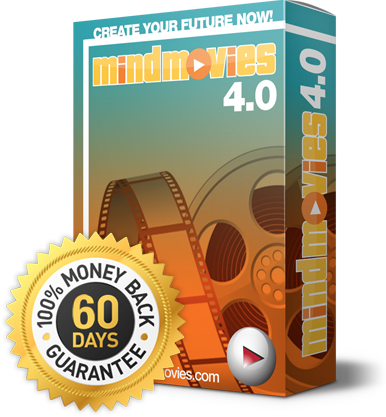 Mind Movies sincere PROMISE to you is this:
Once you order, login and create your first Mind Movie. You'll instantly see how easy and fun this technology is.
Then, once you start watching your Mind Movie daily, and even creating new ones as you please, you'll realize how transformational it is.
In fact, some Mind Movies students report improvements in their emotions, thoughts, and habits, just after a few short sessions.
Finally, once you start seeing every area of your life begin to change for the better...you'll want to share this technology with everyone you know.
We know that is a bold promise – but that's what we have seen time and time again in the students who join the Mind Movies movement.
So if after using this technology you feel that your life has not transformed for the better...
In fact, even if you just change your mind or can't find a few minutes a day to make and use your Mind Movies...
Just email [email protected] within 60 days for a full and friendly refund.
Try the Mind Movies 4.0 Creation Kit 100% risk free for 60 days
There's always going to be a movie playing in your mind...
what will yours be?
The truth is, disempowering movies are a fact of life.
They can invade your mind from anywhere - like from things you saw your parents saying or doing growing up.
Or the pain of a bad breakup.
Or a traumatic childhood incident.
Or the anxiety from a problem you can't seem to solve at work or at home.
Or fear about something that hasn't even happened yet, like surgery or a tough conversation you need to have with someone.
What's frustrating is, even when you're aware of these 'bad' movies, it's nearly impossible to press the STOP button on them.
But here's the thing:
While you can't stop these 'bad' movies from forming...
You can replace them with empowering movies - and that's exactly what Mind Movies does for you.
So just like how you take a shower whenever you're feeling icky...
The Mind Movies 4.0 Creation Kit is a tool you use over and over again to 'cleanse' your subconscious... whenever negativity or self-destructiveness starts building up inside it.
Over 4 million people use Mind Movies every day to live happier, healthier, more successful and more abundant lives.
Now it's your turn - just place your order below, and in minutes you'll be making the movie of YOUR greatest life… and turn it into your reality.
How to get started:
Click on the Add To Cart button below to order Mind Movies.
Once you've completed your order, follow the instructions in your confirmation email, and login to your Mind Movies software.
Right after watching the video, go ahead and start making your first Mind Movie. Do it while you're still excited and while this intention is still fresh in your mind.
Watch your self-made Mind Movie right away! And keep doing it every day either in the morning before you start your day, or in the evening before bed. Or better yet, both.
Continue using your Mind Movies daily and watch as both your own mind and the Universe begin to bend in your favor.
Frequently Asked Questions